Die-hard fans of CrossFit say it's a challenging workout like no other based designed to provide different well-rounded workouts in a fun supportive community. But what is Crossfit?
Head down to your local CrossFit gym on any given night to find out what CrossFit is, and you'd be forgiven for thinking you'd stepped into a warehouse for masochists.
You'll find athletes, the obese, men and women, young and elderly all pushing themselves to their physical and mental limit.  It's a rare thing to see roughly equal mixes of men and women in any sport, these are a truly diverse bunch of people.
Is CrossFit just another fad or a dangerous sport?  It's competitive, it's daily, and it's hardcore so it hazardous to your health?
THE OLD MODEL OF FITNESS VS THE NEW
CrossFit 'WODs' Workout Of the Day's" leave people doubled over out of breath, pouring water over their bodies and sometimes vomiting.  But despite that, more and more people are showing up to their local CrossFit gym called a "box" to do a new WOD again the next day.  The workouts are painful and seemingly addictive, and that reflects the sports growing numbers.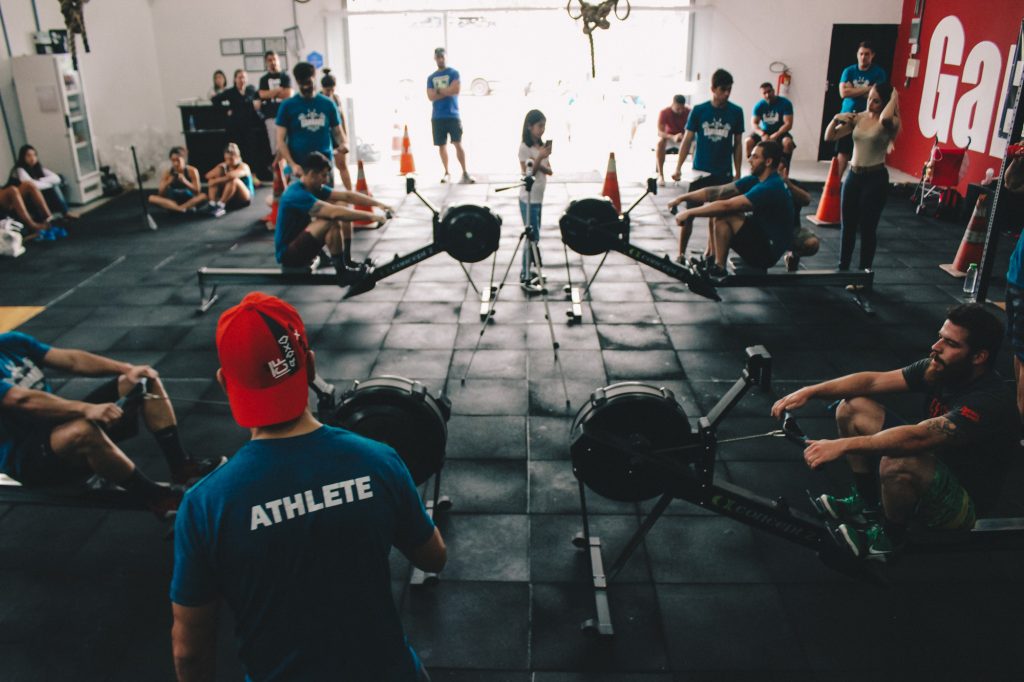 Peer-reviewed studies show what some in the industry have known for years.  That doing the same set of exercises at high repetitions is not as effective as a highly varied workout for strength and maintaining weight.  The traditional model for average gym goers consists of 30 minutes for high rep low weight resistance training, followed by a 20-30 minute bout of steady cardio on a bike or treadmill.
Now that is deemed as the 'wrong way' to approach fitness.  Instead, we are told that high intensity, short duration exercise is significantly more effective at building muscle, losing weight, and for overall fitness.
And we're told that keeping people motivated to want to work out is a real problem.
It's thought that roughly 80 percent of people who have a gym membership doesn't use the gym and that this is a global pattern, not just in the US.  In a world where people want and pay to work on their fitness but don't participate, we have to ask why?   Turns out Crossfit keeps people motivated and turning up for more.
In 2018 it's reported that there are 13,000 Crossfit affiliate gyms spanning 120 countries, there are more Crossfit gyms than the 11,300 Dunkin' Donuts stores worldwide.
WHAT IS CROSSFIT?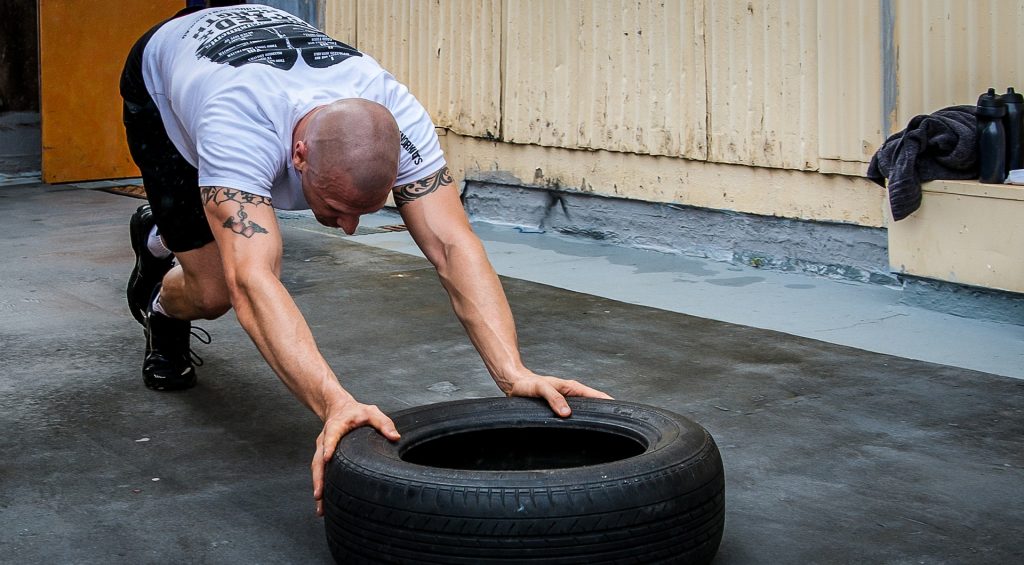 Most surprising is how short a typical CrossFit WOD is; it's usually 20 – 30 minutes. Despite the short duration any 20-minute session will leave you gasping for breath and feeling that pain that only the worlds best of workouts can bring on.
Then there's the fact that you won't find many machines inside a CrossFit box at all – in fact; you'll find it reasonably empty of conventional machines.  Sounding mysterious?
Founder Greg Glassman says that Crossfit  is a"constantly varied functional movements performed at high intensity."  He branded Crossfit Inc with his now estranged wife Lauren Jenai in 2000 after designing the regime in alignment with his definition of fitness itself "increased work capacity across broad time and modal domains."  Sounds technical, so what does that mean, what is CrossFit?
The movements themselves are aspects of gymnastics, weightlifting, running, rowing and more.   A "typical" CrossFit WOD consists of a strength building component (generally either lifting or dragging), a gymnastic element (think push ups or chin ups) and aerobic component (jumping jacks, sprints or rowing).  CrossFit is a constantly changing series of targeted exercises, designed to work out your entire body.  All up each total session is around an hour including warm up, skills training, WOD and stretching.
Not everyone can do a handstand pushup or kipping pull-ups when they walk into a Crossfit box, so the exercises can be modified to suit.
All CrossFit exercises build on simple principles, the WODs can be as easy or hard as you like and fundamental movements can be mastered after a short time.   Progress is always measured and recorded to track results and progress and coaches are almost always close by to encourage, prevent injury and assist with correct form.
HOW DOES CROSSFIT FITNESS COMPARE TO BEING GYM-FIT?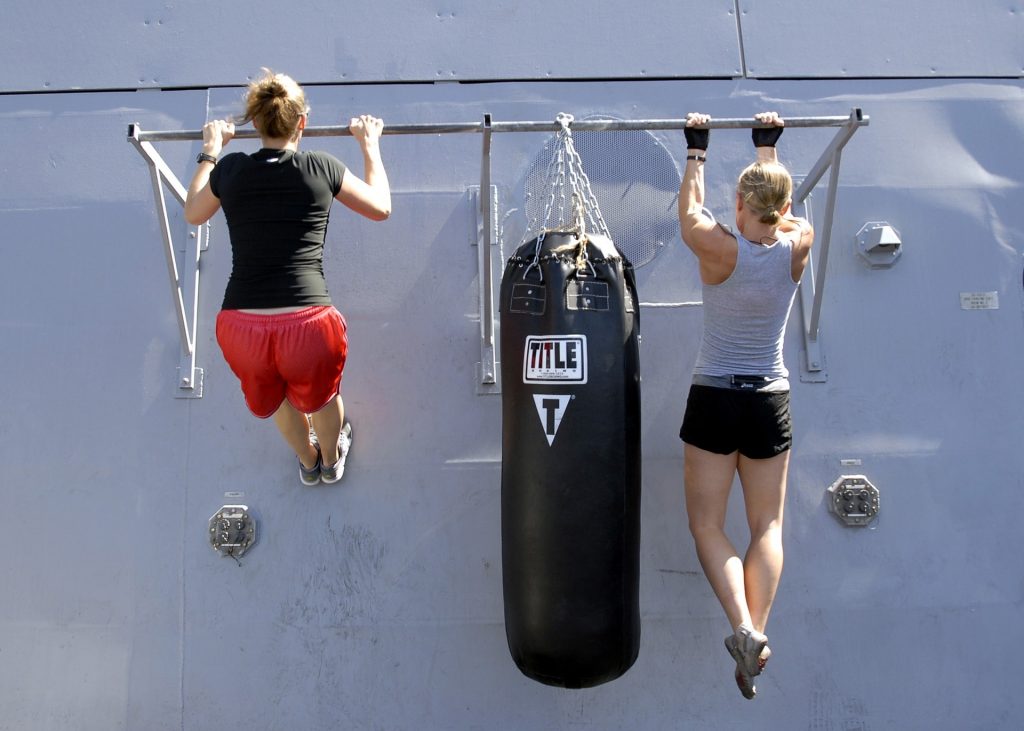 Large expensive and often complicated gym equipment is often sold on the premise of yielding better results.  But there isn't a real comparison between a CrossFit program, and what you'll get at a conventional gym.
Being "gym fit" often has nothing to do with being able to do real-world tasks -CrossFit exercises have foundations in real-world movements, so they prepare your body for the real world.  It's not about building what muscles look good or reducing fat for vanity.
And a rigid gym routine won't always protect you from injury because gym programs often lack the variety and different movements that translate into everyday tasks. Merely reaching up to a high shelf involves a combination of extension, twisting, and balance.  Lifting an odd shaped heavy item from the trunk if you trained strength only two-dimensional planes for your arms and legs could result in a back injury.
Ask any CrossFitter if they have the same trouble performing daily tasks – you'll hear a resounding "NO!"  In fact, most will tell you they feel more prepared for the world physically and mentally.  The movements hauling sandbags, throwing wall balls and at least attempting muscle ups translate to real life.
CrossFit is a bit closer to having a personal trainer rather than hitting the gym alone.  The coaches and fellow members are always looking out for you and helping one another through the WOD.  But because the exercises are different, the coaches are never staring blankly into space while you finish off the same 20 reps on the same machine for the 4th time that week.  The workouts themselves are inherently novel and keep the coaches interested.
CROSSFIT COMMUNITY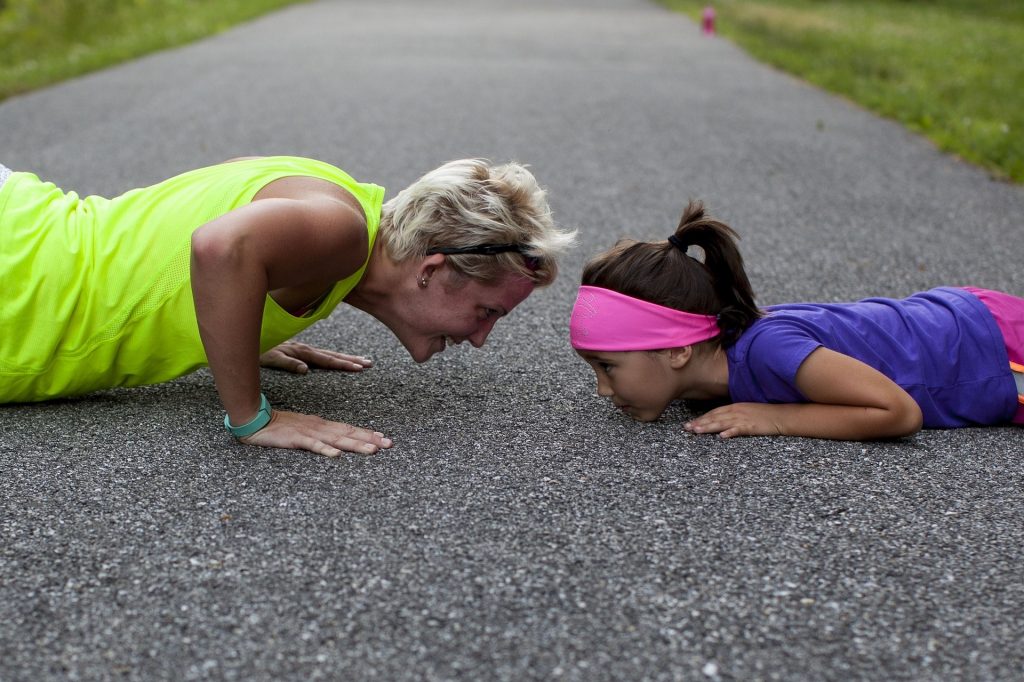 Camaraderie, fun with friendly but severe competition spurs on the intensity at your local Crossfit gym.
At a convention gym, most people don't communicate with anyone else.  It's often a solo activity, and most people are listening to their iPods and doing their own thing, maybe working out with one buddy.
There's certainly no one cheering you on and willing you to do better.  Even if you pay for a personal trainer it's likely they stand there recording what you've done and every four to six weeks suggest a routine changeup.
In a Crossfit box, everyone that is part of the community becomes your friend; everyone helps out, everyone is supportive. Friends bring their families and families bring their friends, and that's how the network grows.   The shared act of sweating, feeling tremendous pain brings people closer together and the community alone is enough reason to give Crossfit a try.